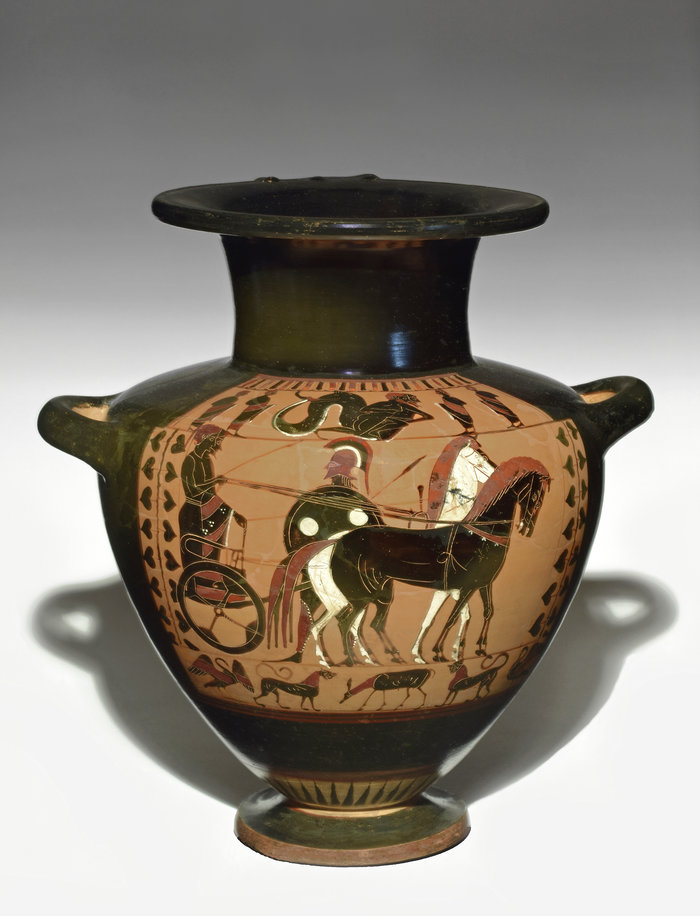 Hydria
Black glazed pottery, added white and red.
Hydria characterized by three handles, two on the sides and one on the back. The horizontal handles are for carrying and the third, vertical one was meant for pouring water. Black on red panel, with borders of branches with leaves along the sides and tongue pattern along the top. Above the foot black rays with line in added red; beneath the panels three red lines.
The scene on the shoulder represents the contest of Herakles and Triton. Triton is a Greek god, son of Poseidon, a messenger of the sea. He has a long beard and his body terminates from the waist in a long fish's tail with scales incised. The nude Herakles with pointed beard has seized Triton round the chest from behind. Two youths on each side accompany the scene in the centre.
The main panel on the body of the hydria represents a quadriga scene from left to right. A draped bearded male holding a spear stands in the chariot, next to him a young beardless charioteer holding the reins of the four horses, three of them black and one white. Behind the quadriga a hoplite in full armour with helmet, shield, greaves and a spear. The composition with its fine polychromia symbolizes an essential element of aristocratic status values in archaic Athens.
Below this scene, forming the base for the entire image field, a third frieze with two swans, two panthers and a deer. This kind of frieze is typical for Little Master Cups, but very unusual for a hydria. It is merely a decorative element.
Recomposed from fragments with one small area of modern infill.
Published
Exhibition: "Little Master cups BAAF Brussel 2014"
Provenance
French private collection, acquired between 1900 and 1920, since then family property.
Accompanied by a French export licence.